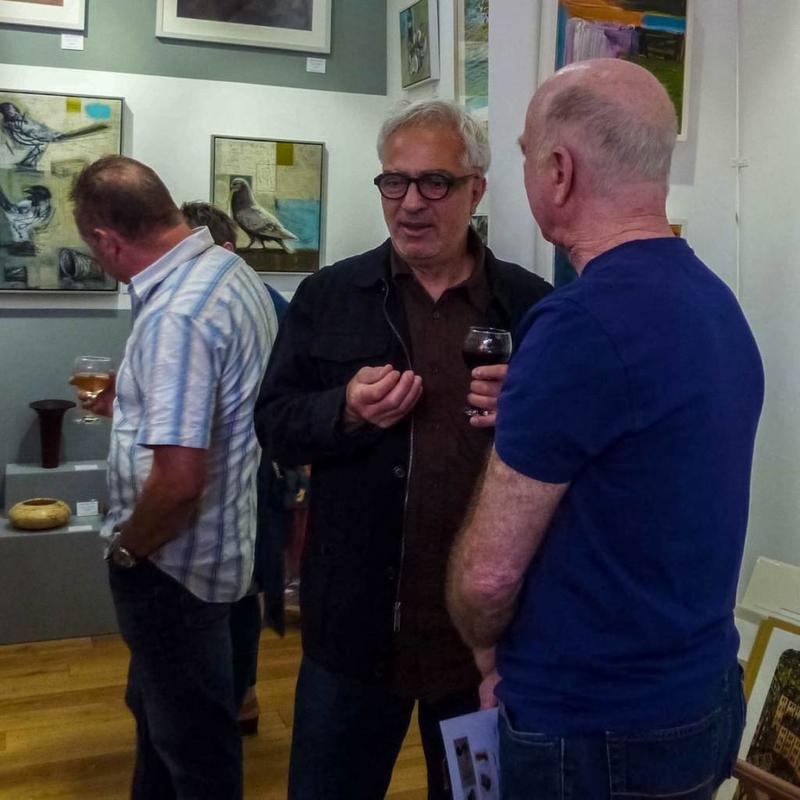 Prof. Gagik Aroutunian
'Travelling Light' from USA to Todmorden.
As part of this exhibition's opening Prof. Gagik Aroutiunian from Chicago gave an illustrated talk on Saturday with fascinating and erudite insights into his practice and influences from his origins in Armenia, though to USA, via Poland and Germany. His work Metamorphosis 1, certainly steals the show along with a Barry Midgley work 'In England's Green and Pleasant Land'. Barry Midgley lives close to Todmorden, and was at the forefront of getting the groups together, which all began with making a bronze sculpture of a tornado when visiting Nebraska, the work is also on show. But that's another story.
View Presentation as Video
Statement
The practice of art is like a magic prism through which artists attempt to view and understand themselves and the surrounding world, and which allows them to share and communicate the discoveries made in the process.
My work is about identity, displacement, and memory. Intertwined with this exploration is a fascination with two different entities: the rough, explicit, material quality of object/matter, and the ever-elusive image/illusion that we dream, envision or imagine. Sculptural processes and materials are manifestations of object/matter. Images, video and light, on the other hand, represent illusion. While the first is a primary means for me to represent identity and its displacement, the second is a way to represent memory and its transience. This juxtaposition is consistently present in my work in one form or another.
Several of my pieces integrate photographic images (usually in the form of transfers) as an important component. I excise images and figures from their original background before placing them in a new, artificially created environment. This artificially created environment in turn heightens the image's sense of detachment from its setting. However, the process of placing the image in an alien environment also heightens the visual power of the resulting image, freeing it from any pretension of representing reality. The result is a peculiar relationship between the figure and its environment, and the establishment of a new reality.
Through more than two decades, my work falls into four major ongoing themes titled:
Traveler and His Road
Family Portrait
Displaced Appearances
Artsakh

 
All four series have shared materials and processes described in the section "Materials and Processes Used" at the end of these notes. The first three series occasionally overlap conceptually, representing the same subject matter but tackling it from different viewpoints.
Materials and Processes Used

 
In all four series I use diverse materials, media and processes, including painting, sculpture, drawing, photography, video and performance. Most of the pieces combine more than one process (e.g. painting with photography, sculpture with video or performance etc.). Along with these more conventional media and materials, I also employ non-conventional materials, such as water and light (both natural and artificial) as central and important components of the work. Sometimes in the form of installations, sometimes free standing sculptures or wall pieces, the works I create might involve components made of welded steel, fabricated plastic structures, deconstructed found objects, containers of water in which photographic images gradually deteriorate, working electric motors blowing over the surface of the water, and light bulbs casting moving shadows from various reflective surfaces (water, mirrors etc).
Traveler and His Road
 

This series creates autobiographical metaphors of my experiences living as a foreigner in different countries (Lithuania, Poland, Italy, Canada and the US) and cultures. It addresses the feelings of exclusion and of being a stranger struggling but unable to truly connect with the host environment, where the condition of "exile" becomes the norm, but really is not. The residue left as a result of this struggle is addressed by applying diverse processes to deconstructed/destroyed objects/forms. Sometimes these objects/forms are real (found), but more often they are "simulated" through the application of complex fabrication processes.
[powr-media-gallery id=6283e0ad_1529450969]
Read more
Read less