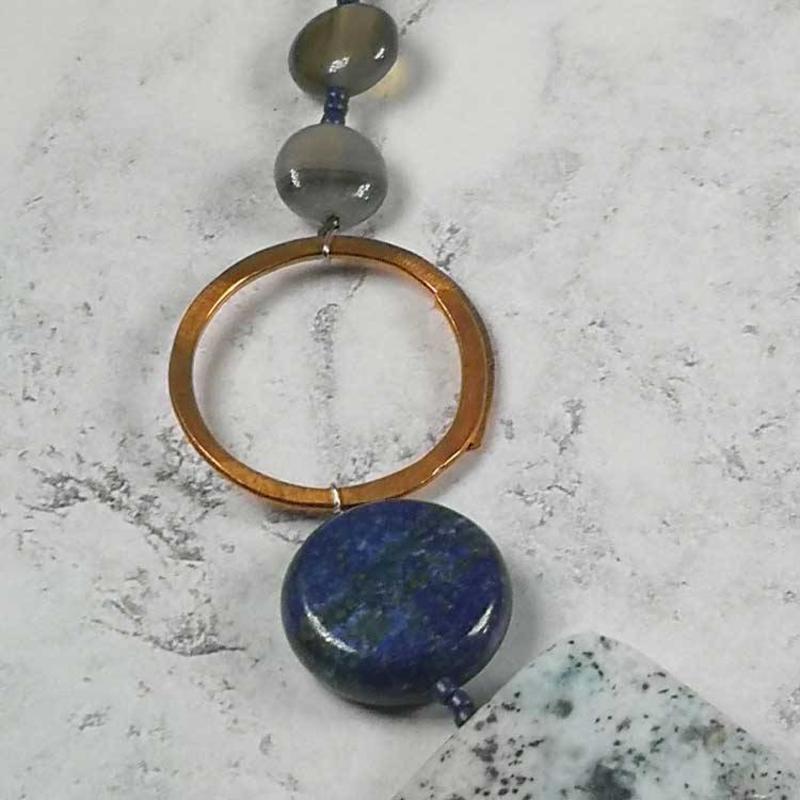 Jewellery
The right jewellery for yourself, and making a good choice when gifting friends starts here at Water Street Gallery shop. Why? A variety of styles and materials, affordable options with no compromise on quality and efficient service. We see jewellery as wearable art, whether your taste is for bold statement or finely worked metals, or towards semi-precious gems or fabulously funky. From jewellery for everyday, to anniversary and special occasion wear, we aim to make browsing, choosing and purchasing an enjoyable experience
Currently rose gold is really popular as in finely worked metals by Lime Tree Design,   Reeves & Reeves and Elizabeth Chamberlin all also using hallmarked silver and gold.
Statement pieces combing gorgeous semi-precious with metals are Melisa James, Angela Learoyd, and Katherine Bree - a great find at the British Craft Trade Fair, which is a yearly treat to gather talented makers and 'stock the shelves'
Expanding into innovative, often upcycled materials are rubber inner tube jewellery by Paguro, recycled plastic bottle bangles with copper by Anna Roebuck.
Assemblage is as valid in jewellery as well as Fine Art, and some magnificent pieces created by Anne Sherburne combining crystals, beads, metals and found items into a sparkling array of earrings necklaces and brooches. As well as supporting many ethical Fair Trade initiatives such as Lotus Feet from the Philippine artisans.
Technical mastery with electro-plating real leaves bring nature and science together Roxburgh, as does using acrylics to suspend tiny, tiny flowers by ShriekingViolet.
Read more
Read less