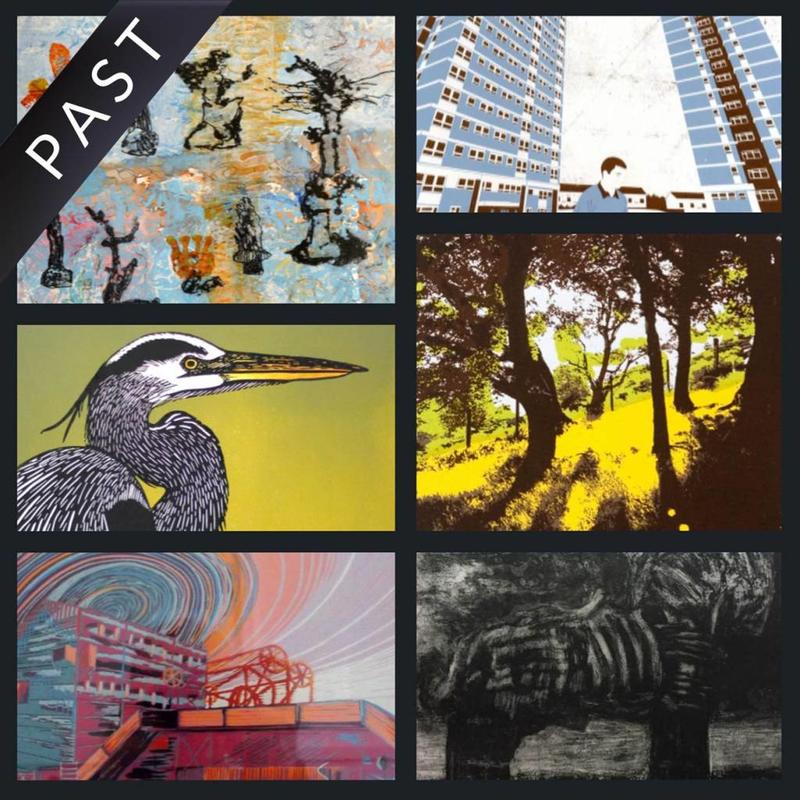 PRINT - WSG/WYPW
3 MAY - 10 JUNE | JOINT EXHIBITION | PV THURS. 3 MAY
| | | |
| --- | --- | --- |
|   |   | An exhibition of prints by selected members of West Yorkshire Print Workshop, which showcases the possibilities for printmaking to make rich and engaging art works through a variety of printmaking processes, including dry-point, etching, linocut and screen-print. Invited gallery artists Shelley Burgoyne, Angie Rogers and printmakers from the WYPW. |
 

 

Ben Whittington is a Graphic Designer / Illustrator based in Leeds, England. He is currently employed as a Design Manager by a major greetings card publisher but continues to provide design solutions to a number of clients outside of the card industry, as well as creating hand screen printed posters for gigs and other events.
 

 

Dan is a printmaker with a passion for exploring colour and composition. He produces screen prints of the places and scenes that move and inspire him. He has developed his own unique style, which has been described as looking 'Instagrammy' – he predominantly works in a square format, with imagery starting life as digital photographs.
 

 

I have always been fascinated by the forms and hidden patterns found within the landscape, both natural and manmade. The idea of shapes and surfaces constantly changing has led to my interest in weathering and erosion. The discovery of lino etching has helped me replicate this natural process by distressing the surface of the lino..
 

 

For the last three years I have placed printmaking at the heart of my artistic practice with a focus on etching using mainly sugar lift and aquatint techniques, and recently, starting a series of mono-prints. I have been exploring two recurring themes: Monuments and The Deep Wood.
 

 

"These etchings were done with a moorland wall landscape in mind which I see every day on my walk above where I live in Saddleworth. Often it is misty and very atmospheric. However I could not quite capture what I had in my mind and was disappointed with my etching. I took it home and had a rethink, turned the wall etchings upside down and made it into a harbour wall and then painted in the yachts with oil. I was pleased with the result."
 

 

Jenny is a studio holder at WYPW whose wide-ranging print practice includes etched lino, lino cut and etching. 'Landscape usually asserts itself in my work. My approach begins with large gestural abstract marks, which resolve themselves into a particular place, or a spirit of place, from my memory.'
 

 

Scarlette specialises in reduction lino-cut. Her work is inspired by the built environment in Yorkshire, where she now lives, but also from memories in Leicester and Kent. Her interest lies in exploring traditional and non-traditional spaces through the process.
 

 

"This work is concerned with the process of transformation of discarded and forgotten books into new printed images. After being discarded and left in and on the earth, the books loose the knowledge that was held in the text; they become closed, damaged by weather, infestations of insects and plants. I use the pages from books to make the images because they are imprinted with the effects of the earth around them. The prints become imaginary map like places. A new narrative emerges from the old books building a new printed landscape."
 

 

Recent work by Shelley Burgoyne based on connections with organic forms, mainly riverside plants, architectural forms, and her own anatomy. She uses varied printmaking techniques to explore form, line and create new life in the process.
 

 

My work sits within the tradition of English landscape art.
I make prints about the experience of being outdoors, informed by specific landscapes and the secret life of the plants and creatures that inhabit these spaces. My daily walks around the South Pennine moors and valleys have given me a deep familiarity with this terrain and the accumulated memories of place become the basis of image making.
 

 

Her printmaking work forms and equally important part of her artistic  output, whether mono prints, which are close in mood to her paintings or with traditional prints. Much work has been  published with private presses and her original prints use innovative monotype techniques combined with etching and relief printing.
Read more
Read less