Smaller & Smaller
In the glow from last years Small Works exhibition 'Amazing Rare Things' perhaps a superlative for this years 'Smaller and Smaller' exhibition has to be phenomenal and spectacular.

The aim was to be totally inclusive in both the art work and stages in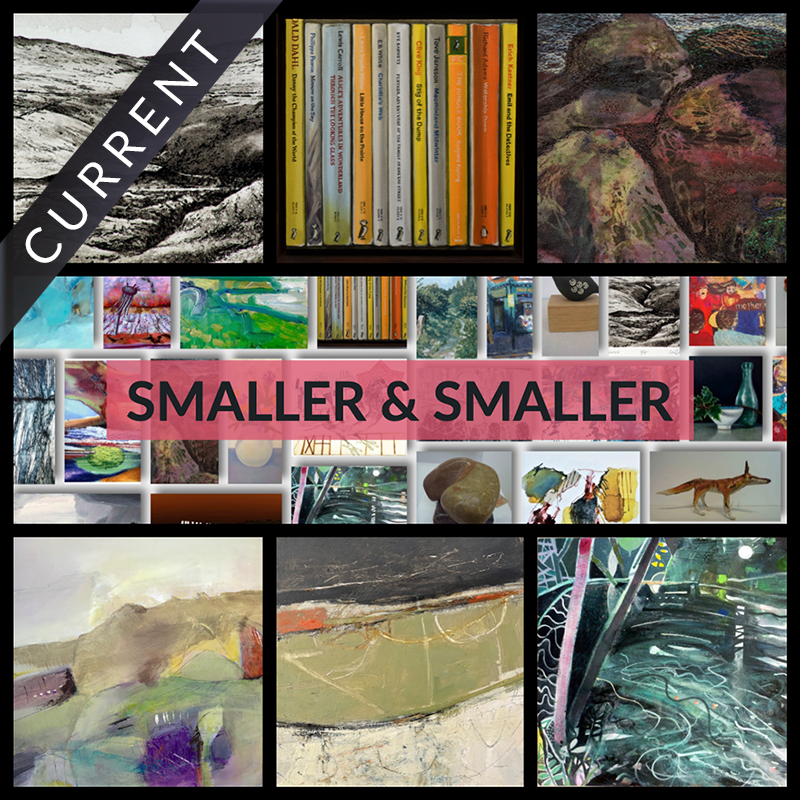 Smaller & Smaller| Thurs 31 Oct - Fri 31 Jan
PV Thursday 31 Oct 6 - 8:30 pm RSVP
A group Exhhibition
Walking down the famous cobbled Water Street with its inviting shops and cafes, enter the Water Street Gallery - enter a world of fine art and craft of amazing variety and quality in the 'Smaller and Smaller' winter exhibition of affordable small works. Experiencing this wall to ceiling - literally - display of local, national and international artistic talent is surely a desirable spiritual uplift. Established artists are juxtaposed with emergent talent, still life with narrative, abstract with works leaning towards expressionistic, or impressionistic, and landscape with portraiture. And it works. A broad spectrum of 2D& 3D works in many different media - painting, drawing, sculpture, collage, assemblage, original prints and ceramics form this exhibition on two floors make this exhibition a destination for buyers and browsers. All welcome.
Mentioning one or two newcomers to WSG - Kate Boyce who used to show in the Calder Gallery, Hebden Bridge says of her original collage, painting and prints 'The landscape and at times, the climate of Calderdale, is neither serene nor tranquil. Kate was drawn to the grittiness, to the dramatic character of her surroundings'. Her original work Sunset and Shadows, Blackshawhead certainly captures the atmosphere of Calder Valley. The Guardian your cartoonist of the year Louis Benoit is exhibiting ink drawings of cats and characterful menagerie.
From further afield Portuguese artist Rachel Ramirez prints direct from nature such as a Nasturtium print.
[powr-media-gallery id="97b756f2_1574454343"]
There is a wide selection of new works by gallery artists such as Dominic Vince - a sumptuous oil painting of Runswick Bay, a fine nude portrait by Barry De More, and Ian Taylor who always comes up with intriguing visual comments - The Pudding Carrier being one of many.
[powr-media-gallery id="c609c860_1574454928"]
So if you are missing the awe inspiring salon hanging at the Royal Academy Summer exhibition - drop in this gallery for our stunning winter exhibition - last count was 58 artists, and growing.
---