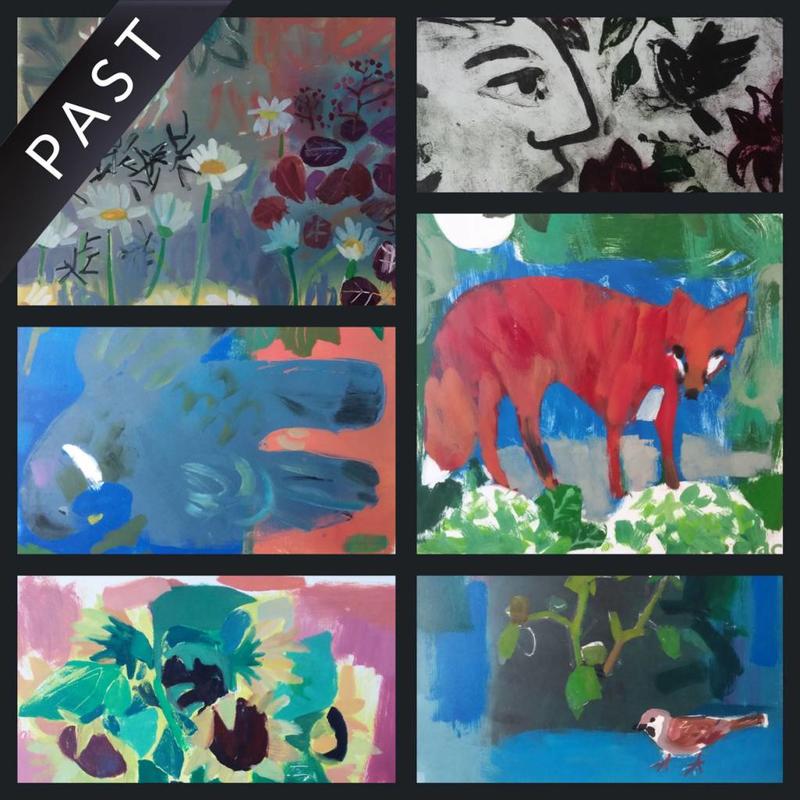 Tales from the Garden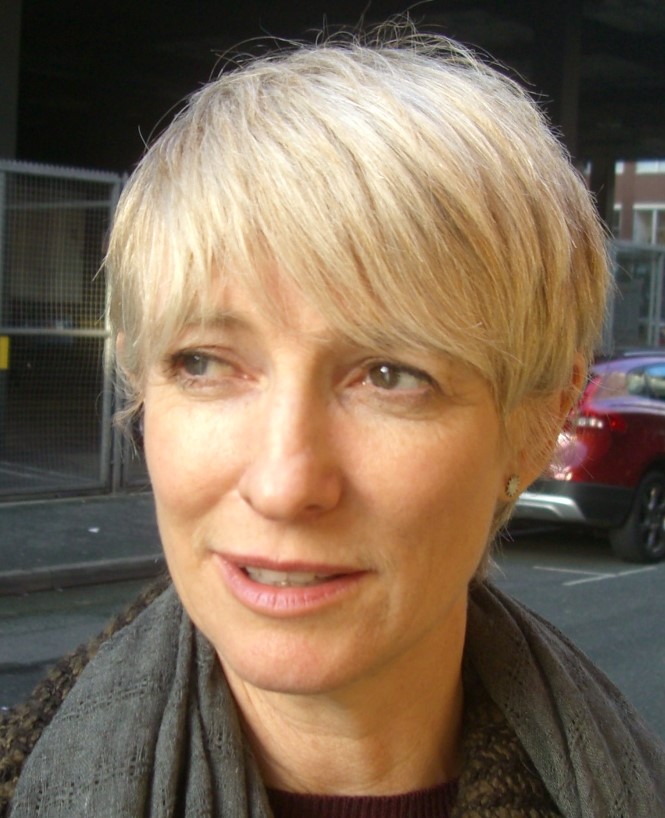 About the Monoprints
I make these 'printed paintings' by painting directly onto transparent acrylic plates which can be wiped and worked into before printing onto paper through the press. It enables me to work directly with colour and a brush and captures the energy of the marks and brushstrokes. 'Mono' means that these are one off images – not editions. Some of the works are made with one pressing whilst others are more intense and have several layers of inks printed in maybe four or five pressings.
About Carborundum Prints
These are made using carborundum – fine grit- which is painted onto a card plate using varnish. The gritty surface when inked up holds the ink and gives an intense colour and texture to the resulting print. This series which is inspired by imagined events in 'The Garden of Eden', explores the theme of discovery and experience.
The imagery can be festive and exhilarating, quiet and sensitive or dark and suggestive. Like the tales, rhymes and proverbs which kindle her creative vision, Adrienne's art playfully reveals fundamental truths about human nature. It also champions the imagination and good story telling.
The female figure representing 'Eve' may well refer to the artist herself. Adrienne say's that 'They are naive and playful souls discovering their environment.' The simple, but emphatic, line she uses has a childlike quality which suits the subject of the first man and woman in their states of innocence.
Box reliefs
The box reliefs came about after making some small bronze Artist Medals for an exhibition at the Sladmore Gallery London.
Working on such a small scale, making the modelling clay pieces that the bronze was cast from was a refreshing experience. These became the art work itself and moulding, sanding and painting these small items and creating dioramas with inspiration from historic paintings to folk art has become a playful obsession.
Read more
Read less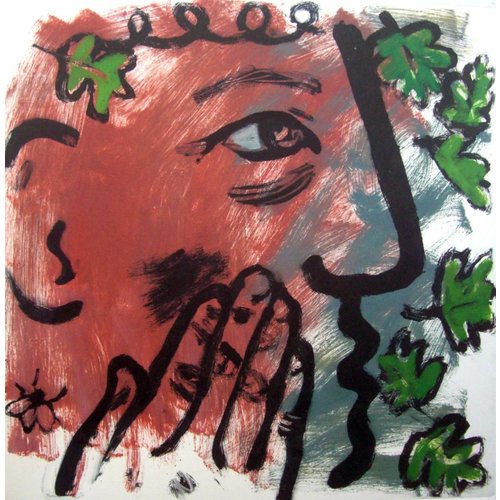 Trouble in Paradise
Adrienne Craddock
Monoprint | Dimensions 50cm x 50cm<br />
This work is part of a current Exhibition | Tales from the Garden <br />
More by <a href="https://goo.gl/3KoDNp">Adrienne Craddock</a> <br />
See more <a href="https://goo.gl/QdnGyc">Printmak
sold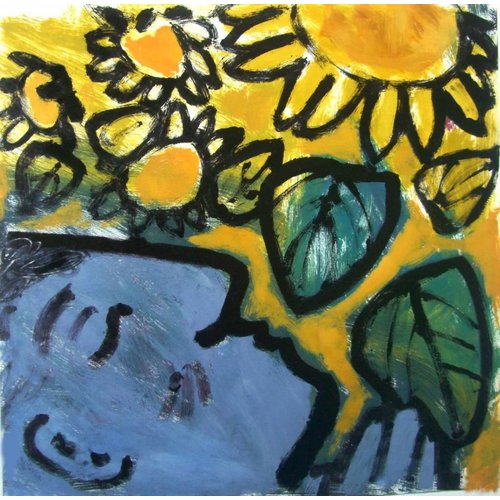 Humming in the Sunflowers
Adrienne Craddock
Monoprint| Dimensions 51cm x 51cm<br />
This work is part of a current Exhibition | Tales from the Garden <br />
More by <a href="https://goo.gl/3KoDNp">Adrienne Craddock</a> <br />
See more <a href="https://goo.gl/QdnGyc">Printmake
sold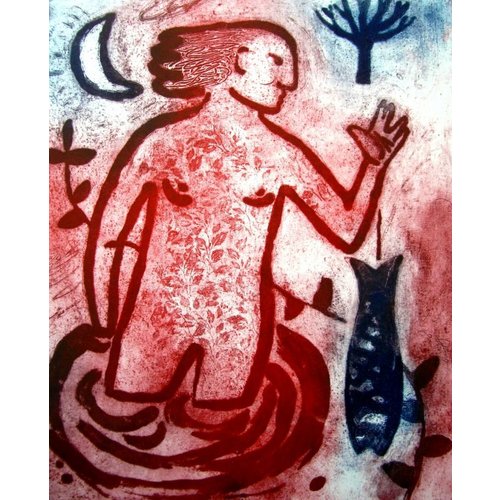 Eve Fishing
Adrienne Craddock
Carborundum| Dimensions 74cm x 88cm<br />
This work is part of a current Exhibition | Tales from the Garden <br />
More by <a href="https://goo.gl/3KoDNp">Adrienne Craddock</a> <br />
See more <a href="https://goo.gl/QdnGyc">Printma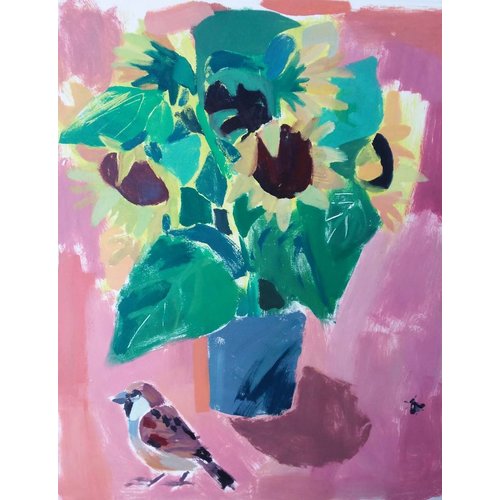 Sparrow and Sunflowers
Adrienne Craddock
Monoprint| Dimensions 60cm x 69cm<br />
This work is part of a current Exhibition | Tales from the Garden <br />
More by <a href="https://goo.gl/3KoDNp">Adrienne Craddock</a> <br />
See more <a href="https://goo.gl/QdnGyc">Printmake
sold
Order by 3pm for next day delivery
Over 5,450 carefully selected items to choose from
Supporting local Artists & Makers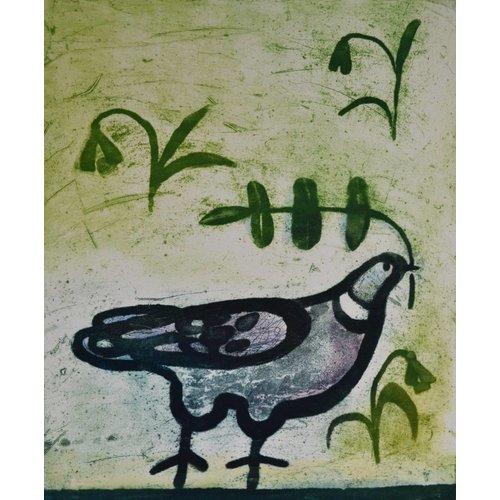 Every Winged Fowl
Adrienne Craddock
Carborundum | Dimensions 74cm x 88cm<br />
This work is part of a current Exhibition | Tales from the Garden <br />
More by <a href="https://goo.gl/3KoDNp">Adrienne Craddock</a> <br />
See more <a href="https://goo.gl/QdnGyc">Printm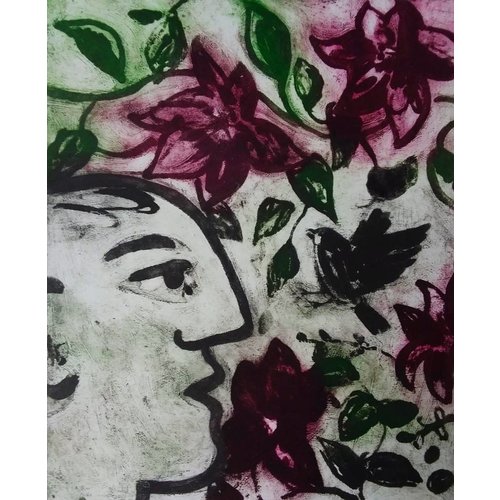 Adam names the Sparrow
Carborundum | Dimensions74cm x 88cm <br />
This work is part of a current Exhibition | Tales from the Garden <br />
More by <a href="https://goo.gl/3KoDNp">Adrienne Craddock</a> <br />
See more <a href="https://goo.gl/QdnGyc">Printmakers</a> <br />
sold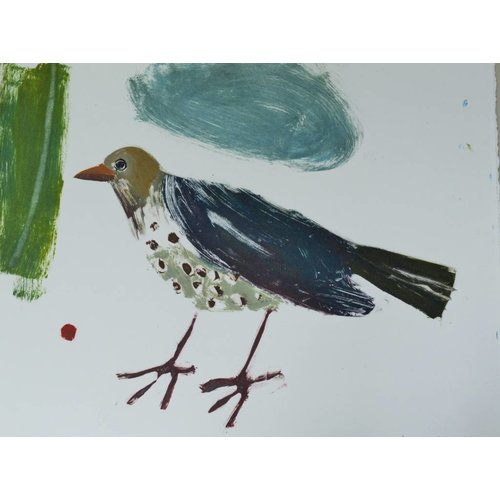 Thrush and Berry
Adrienne Craddock
Monoprint | Dimensions 46cm x 60cm<br />
This work is part of a current Exhibition | Tales from the Garden <br />
More by <a href="https://goo.gl/3KoDNp">Adrienne Craddock</a> <br />
See more <a href="https://goo.gl/QdnGyc">Printmak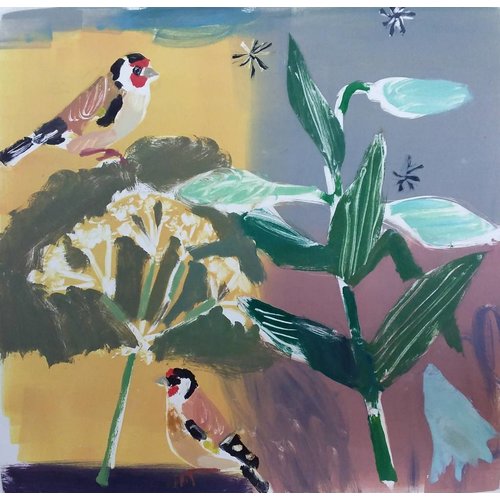 Golden Brown
Adrienne Craddock
Monoprint| Dimensions 50cm x 50cm<br />
This work is part of a current Exhibition | Tales from the Garden <br />
More by <a href="https://goo.gl/3KoDNp">Adrienne Craddock</a> <br />
See more <a href="https://goo.gl/QdnGyc">Printmake
sold