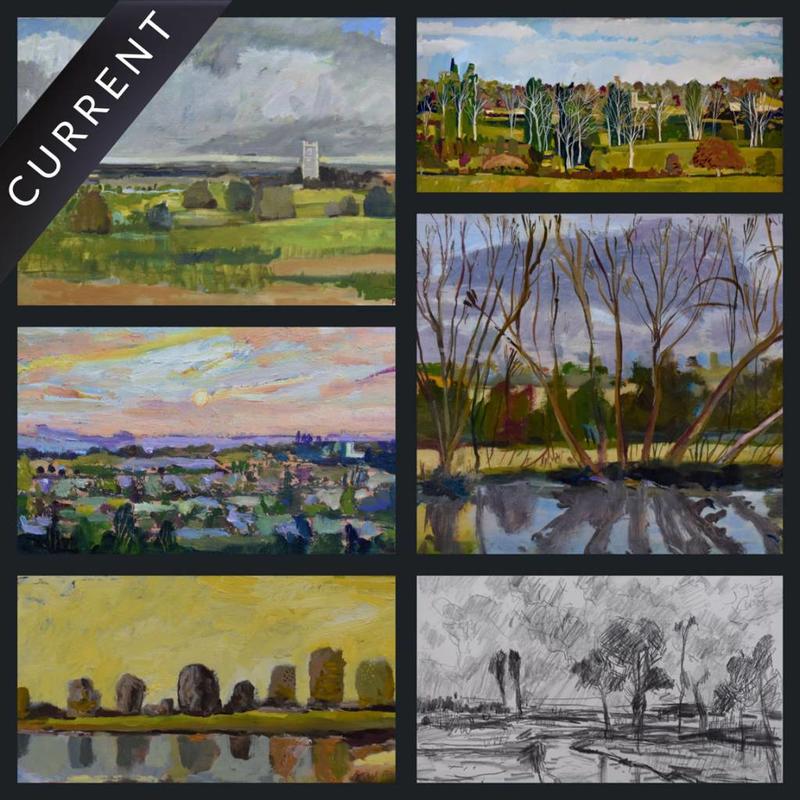 In the Footsteps of Constable
22 MARCH - 29 APRIL SOLO EXHIBITION   -  PV THURS. 22 MARCH
By Dr Anna Maria Barry
" There's nothing there!" says Paul Finn when asked about the Suffolk landscape that has inspired his latest exhibition......"......
"There is nothing there!" In this context, is indeed a surprising assessment of the landscape that has inspired and nurtured so many of our leading artists. But taken in the context of Paul's work, this sentiment reveals itself to be one which strikes at the heart of this exhibition. This is because the exhibition focuses not on the landscape bit depicts, but instead on the way in which this landscape is experienced. Rather than simply assimilating and recording a scene, Paul places himself, his impressions and his artistic process in the foreground. In doing so he says important things about the relationship between art and the environment, man and nature, seeing and sensing, viewer and artist..........
" You really have to look", he says explaining how he has composed his vision of Suffolk, how do you decide what to depict?.
Observations & Recollections from Geraldine Cabanero on Vimeo.

Over the course of a year he made many visits to the area, walking , bird watching, drawing, and observing. He has carefully observed how the landscape has transformed itself across the seasons. Back in his studio, Paul has sought to depict not only the places he has experienced- but his impressions of them. He describes this as a process of remixing and rearranging the scenery to compose scenes which both assimilate and respond to the impressions and emotions that the area has suggested to him.. However ,it is not only his impressions which place the artist at the centre of his work . The paintings also seek to depict their working method, making Paul's decisions and thought processes clearly discernible through the medium of vivid brush marks. These marks capture an effervescent and improvisatory quality, suggesting the way in which landscape can make an impression in fleeting flashes of feeling which are often difficult to articulate
Read more
Read less