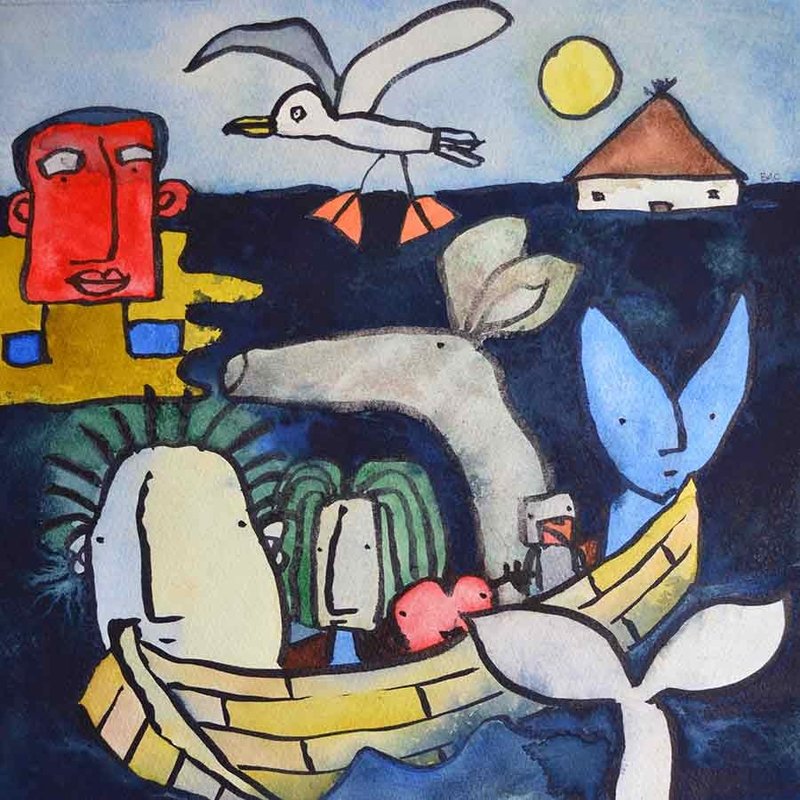 Barry Cook
From Henley on Thames
Lives and works in Todmorden
1977 BA Hons Fine Art – Stourbridge College of Art
Using watercolours, inks, gouache and pencil, I produce imaginative, theatrical narrative paintings, inspired by nature, music, stories, folklore and myths. I use a variety of symbols and animal images to represent characters and ideas in my paintings. My paintings are all water based.
I am a contemporary artist living in Todmorden. The main artworks I produce are imaginative figurative paintings. I also produce sculptures and photography. I have lived in Todmorden, West Yorkshire for the past 33 years where I have my studio.
I attended Art College in the 1970s. I started working in my present style in 1990, exhibiting work from 1995 onwards. I now have more than 150 paintings in private collections.
Many different artists influence my work – Outsider Art, the COBRA art group, David Jones, Ken Kiff, Alan Davie, Stanley Spencer, John Piper, Mary Fedden, Shani Rhys James, Dieter Roth, David Shrigley, Cornelia Parker.....
Nature, Music and Literature are three big influences. Birds such as Nightjars and insects such as Mayflies and Earwigs frequently feature in my paintings. With a wide range of music influencing my ideas, anything from opera to the Manic Street Preachers and Iggy Pop can inspire new storylines in my work. In literature, novels especially those of George Orwell, Charles Dickens and Rose Tremain give me new ideas for art. Inspirations for my recent works include entomology, tree life, King Charles 2nd, Saint James, the Brontes and Victorian industrial philanthropy.
[powr-form-builder id=a47985a9_1537379157]
Read more
Read less