Malcolm Taylor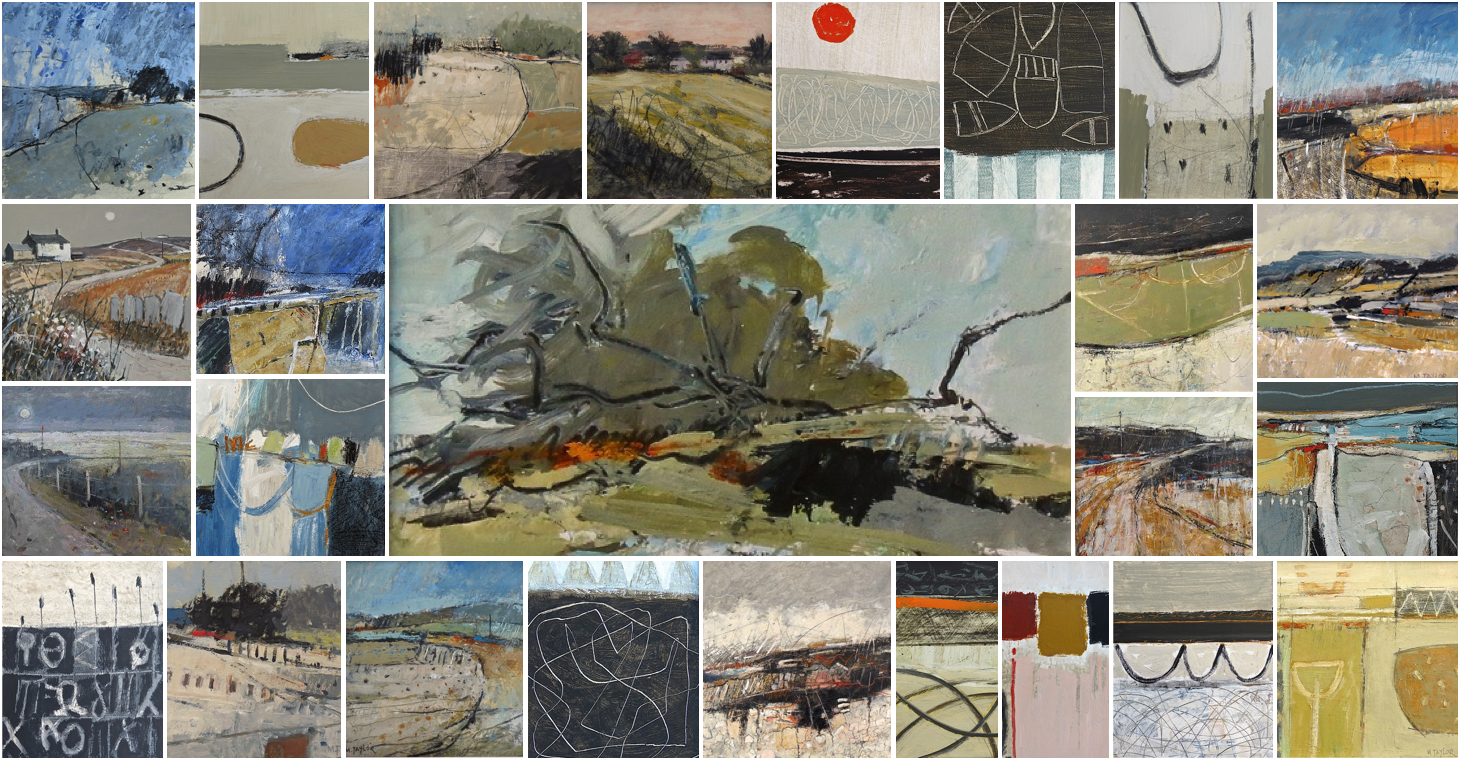 Nacido en 1948
Vive NW Inglaterra
Principalmente un pintor de paisajes
Miembro de la Academia de Bellas Artes de Manchester
53.7066111-1.9393328
" Mi preocupación no es reproducir un parecido, sino capturar las características de un sujeto " .
Introducción
Un artista con sede en el noroeste de Inglaterra que siempre ha pintado junto a su carrera empresarial, desde 2008 pintando a tiempo completo principalmente un paisaje y pintor de bodegones, trabajando cada vez más en un formato abstracto. Funciona con medios mixtos desde estudios de sketchbooks hasta trabajos de estudio.

Biografía
Ampliar los horizontes de este artista prolífico que viaja a través del Reino Unido para su material de origen, aunque en particular, donde vive en Calerdale, y en St. Ives en Cornwall.
"Muchas de mis pinturas se derivan de una exploración continua del paisaje pero, con mis pinturas puramente abstractas, no tengo una imagen fija en mente cuando comienzo, prefiero dejar que las imágenes se desarrollen y evolucionen a través del proceso de pintura.

Nunca me he limitado a trabajar en un medio en particular y continuamente me encuentro cambiando entre los acrílicos, los aceites tradicionales y los pasteles suaves y al óleo, dependiendo de lo que estoy tratando de lograr.

Pinceles, palos, dedos y pulgares se utilizan para raspar, puntuar y rayar las marcas en la superficie. Continuamente vuelvo a dibujar, reorganizar y borrar pasajes en un deseo de lograr un equilibrio de color y forma. El resultado final es lo importante y puedo usar collage, técnica mixta, goteo, raspado, dibujo con palos, cualquier cosa para lograr una pintura espontánea y animada que sea armoniosa en composición, tono y color.
Su trabajo ha sido exhibido en galerías de todo el Reino Unido y en lugares tan lejanos como Nueva York y Seattle. En los últimos años, estos incluyen He está estrechamente involucrado en la Academia de Bellas Artes de Manchester y The Pastel Society. Ha sido seleccionado para exhibir en numerosas exposiciones nacionales abiertas, incluida la Royal Academy Summer Exhibition, la Royal Society of British Artists, además del Royal Institute of Oil Painters y el Royal Glasgow Institute of Fine Art. Royal Cambrian Academy, Conwy, la galería Edmund, Bury St. Edmunds, también The Aldeburgh Gallery y varias ferias de arte de Londres. Las exposiciones individuales incluyen Water Street Gallery (2) y Cricket Fine Art (Chelsea).

Su trabajo se lleva a cabo en colecciones en Inglaterra, Gales, Escocia, EE. UU., Suiza y España.
Exposiciones seleccionadas
Galería de arte de Manchester City - exposición de la academia de Manchester
The Harris Art Gallery Preston - Exposición de artistas de Lancashire
Galería de arte Godfrey Pilkington - St.Helens Open Art Exhibition
Turnpike Gallery, Leigh - Wigan Open Art Exhibition
Salford Art Gallery - La exposición de arte nacional de Laing
Warrington Museum and Art Gallery - Warrington Open Art Exhibition
Drumcroon Gallery, Wigan - Drumcroon Open Art Exhibition
Galería Platform 1, Todmorden - Exposición individual
Galería Sally Brown, Marple - Exposición de artistas de la galería
Water Street Gallery Todmorden - Exposición individual
Memorial Hall de Mytholmroyd - Exposición del Festival Ted Hughes
Northlight Studios, Hebden Bridge Yorkshire - Miembro de Open Studio Exhibition
Galería Artsmill, Hebden Bridge Yorkshire - Exposición abierta de primavera
Galería del Festival de las Artes, Hebden Bridge Yorkshire - Big Green Exhibition
Sale Art Gallery - Sale Open Exhibition
Art Exposure Gallery Glasgow - Galería Artista
Artmill Contemporary Art Plymouth - Galería Artista
The Mall Galleries - Pastel Society Exhibitions
Royal Academy of Art London - Espectáculo de verano
Galería Wrexham - exposición abierta Wrexham Oriel
Chapel Gallery Ormskirk - West Lancashire Open Exposiciones
Galería Oldham - Exposición del 150 Aniversario de la Academia de Artes de Manchester
Ayuntamiento de Chelsea - Postales de Artistas Exposición de Anon
Holmfirth Yorkshire - exposición abierta de Artweek.
Galería de arte de Stockport - exposición abierta contemporánea de Stockport.
Millyard Gallery Uppermill - Exposición MAFA en Saddleworth Artweek.
Bury Art Gallery - Exposición de la Academia de Bellas Artes de Manchester
Cricket Fine Art Gallery, Chelsea - Galería de artistas
Feria de Arte de Londres 2011
La exposición Discerning Eye - Mall Galleries London
Exposición del 150 aniversario del Royal Art Institute de Glasgow 2011
[powr-form-builder id = a47985a9_1537379157]
---