David Wiseman
Nacido en 1949
1967 - 9 Escuela de Arte de Colchester
1969 - 72 Escuela de Arte St. Martins
1972 - 5 Royal College of Art
Desde 1975, profesor visitante y a tiempo parcial en varias universidades, incl. Kingston, Slade, Newcastle, Hull, Cheltenham, Winchester.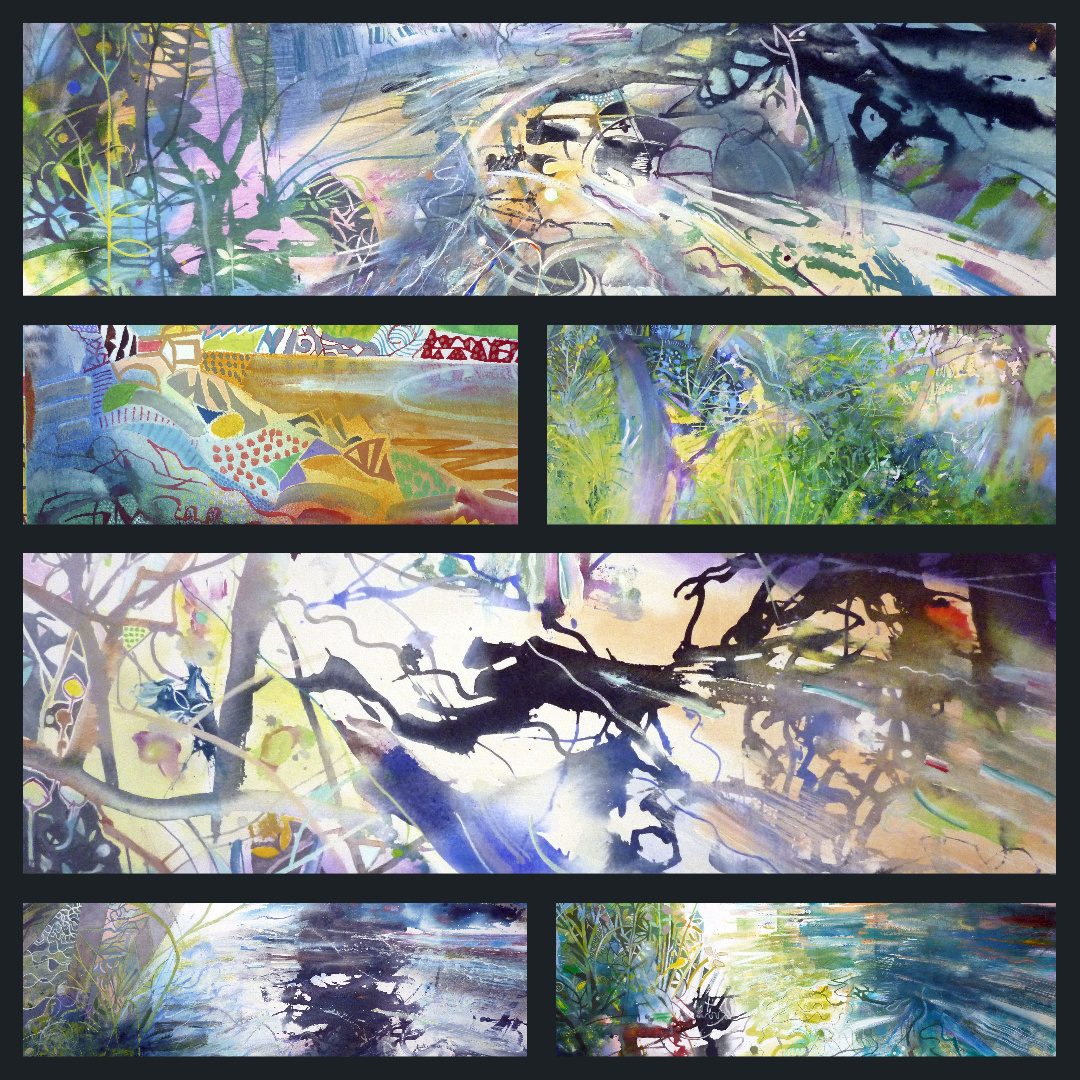 David Wiseman ha estado pintando durante más de 35 años desde que dejó el Royal College of Art en 1975, la mayor parte la pasó en su estudio de jardín cerca de los ríos, bosques y canales locales que ama y que inspiran su trabajo. Ha enseñado pintura en numerosas escuelas de arte en todo el país y ha expuesto ampliamente tanto de forma individual como en muchas importantes exposiciones colectivas seleccionadas.
Las obras sobre lienzo se realizan en el estudio y también trabajo directamente desde el paisaje con una variedad de técnicas mixtas en obras más pequeñas sobre papel y lienzo. Mi pintura se inspira en lugares o eventos de paisajes particulares utilizando dibujos, fotografías y memoria. Cuando pinto en el exterior intento transmitir la sensación de ser parte del paisaje. He sido un corredor entusiasta durante muchos años y la mayor parte de mi carrera la hago a lo largo de la orilla del río y el canal que inspira gran parte de mi pintura. Esto me permite ser absorbido por el paisaje mientras lo atravieso en lugar de verlo como una imagen recortada de una postal. También quiero inculcar este sentimiento de cambio y movimiento constantes en mis pinturas.
Se inician de forma suelta y caligráfica dibujada libremente utilizando una serie de marcas, manchas y formas realizadas con una amplia variedad de pinceles, rodillo, raspador, esponja, etc. La imagen final se extrae lentamente de forma lúdica y orgánica mediante superposiciones marcas y esmaltes para expresar cualidades de la naturaleza como el estado de ánimo, la luz, el color, el movimiento, la atmósfera, el espacio, etc. Estoy intentando encontrar equivalentes para el paisaje en las cualidades físicas de la pintura, con el fin de expresar una sensación de cambio en la naturaleza. Quiero que las pinturas sean intrigantes, tentadoras y ambiguas entre las cualidades plásticas de la pintura y todas las ilusiones y evocaciones mágicas de celebración de la representación de la naturaleza.
En 2010 fue elegido miembro de la Asociación Nacional de Pintores Acrílicos y ganó el Premio Presidentes y el Premio Memorial Adrian Henri en exposiciones en St. Ives y Birkenhead. En 2013, en su año del centenario, mostró con The London Group y recientemente se ha unido a The Arborialists.
[powr-form-builder id = a47985a9_1537379157]
---