A Modern Bestiary
Exploring animals, real and imagined, through the eyes of contemporary artists and maker

21st October 2021-31st January 2022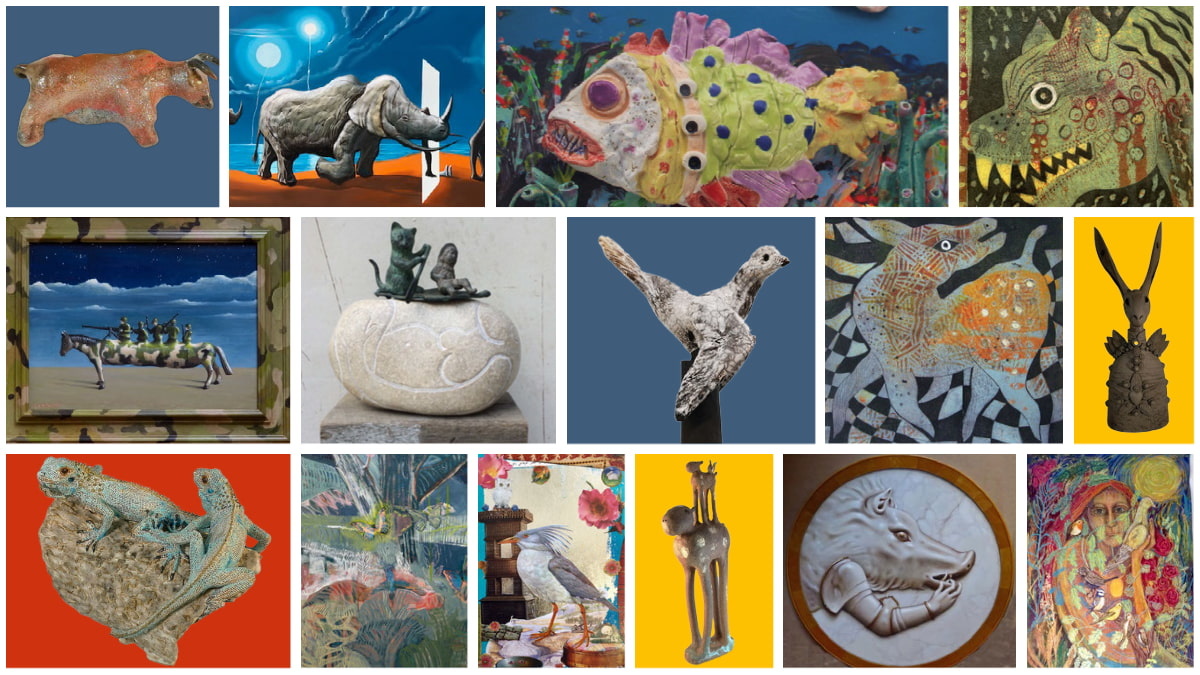 Exploring the animal kingdom, real and imagined, through the eyes of artists who have a personal and contemporary take on this fascinating genre.
Current  interactions of humans with animals  is today at the forefront of our consciousness and conscience. Now more than ever. 
Steeped in tradition the Bestiary has compelled artists and writers from shamanistic neolithic era to medieval times, from Victorian to the 21st century.
Historically  intended as moral instruction the iconography, usually accompanied with text, followed the sequence of creation theories - Unicorn, Lion, Quadruoeds, Birds, Reptiles, Sea Creatures  -  many depicted as hybrid monstrous creatures.  
The issues are complex and  diverse whether farmed for food, sport,  for research,  conservation, or as companions, and are frequently experience by us humans from a distance as TV documentaries, books and stories,  anthropomorphic cartoons, games and of course art.  
Read a Review by Liza Butakova
This exhibition, spread over two floors of the Water Street Gallery space in Todmorden, features works by almost 30 artists in an impressive range of media. From paintings and traditional clay pottery to sculptures, assemblages and even taxidermy, the works in 'A Modern Bestiary' draw on inspiration from the entire history of art. Key references include Medieval illuminated manuscripts, Gothic architecture and heraldry, and as well as naive and folk art traditions and science fiction. We are invited to interrogate the symbolic and mystical dimensions of our relationship with animals, and the role they play in contemporary society.
---